515 Main Street
Main St.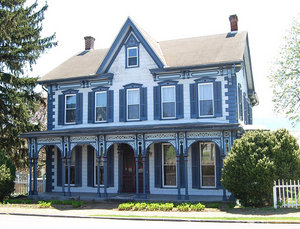 Click On Image To Enlarge
This house sits on the southeast corner of Main and Sixth Streets. It is located next to a hill that led to the Moyer Farm.

It was built in 1884-85 by Dr. Amos W. Shelley. The following note appeared in the Port Royal Times of Nov. 6, 1884: "Dr. A. W. Shelley's new residence, on the southwest corner of Main and Sixth streets, is receiving the finishing touches. The carpenter work was done by Messers. W. A. McCachren, W. D. McCormick and others; the plastering by Messrs. Isaiah Barkey and sons; the painting by Capt. H. H. Snyder, B. Frank Stimmel and Geo. W. Kepner; the graining by J. P. Bubb. It is the handsomest frame residence in Port Royal or the surrounding country, as well as the most convenient and the best finished.

For several generations the house served as both the residence and medical doctors offices of both Amos W. and his son Penrose H. Shelley.

The medical office was located on the first floor to the left of the front doorway, and there was a small waiting room there as well.

The Shelley family provided three generations of medical doctors: 1st Generation: Dr. Amos W. Shelley, 2nd Generation: sons Dr. Penrose and Dr. Jay Warren Shelley and 3rd Generation: grandson Dr. Penn Purcel Shelley. (Jay Warren died at the age of 27 so he hadn't established his practice and Penn established his practice in New Jersey where he currently lives (2009)).
| | |
| --- | --- |
| | Contributed by rkohler3 on 9/28/09 - Image Year: 1890 |
| | Contributed by rkohler3 on 9/28/09 - Image Year: 1898 |
| | Contributed by rkohler3 on 10/13/12 - Image Year: 2012 |
| | Contributed by rkohler3 on 5/21/14 - Image Year: 2007 |
| | Contributed by rkohler3 on 11/19/09 - Image Year: 1889 |
| | Contributed by rkohler3 on 11/19/09 - Image Year: 1904 |
| | Contributed by rkohler3 on 11/19/09 - Image Year: 1911 |
| | Contributed by rkohler3 on 11/19/09 - Image Year: 1928 |