508 Main Street
Main St.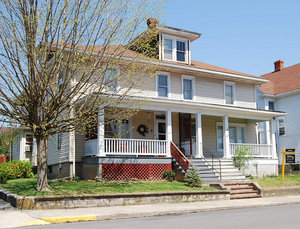 Click On Image To Enlarge
This is a large double house. The right side of the house was owned by the Gilson family for an extended period of time. Ralph D. and his wife "Myrtle" Gilson operated the Port Royal Dairy from the back of this house until they sold the business and a new dairy building was constructed on Milford Street.

This house was built between 1911 and 1928 because it did not exist on the Sanborn Fire Insurance Map of 1911 but was on their 1928 map.

House conveyed from Kay Benner to Revecca J. Colyer in Fall of 2009.
Contributed by adamgilson on 9/19/09

Contributed by rkohler3 on 5/21/14 - Image Year: 2007

Contributed by rkohler3 on 11/19/09 - Image Year: 1889

Contributed by rkohler3 on 11/19/09 - Image Year: 1904

Contributed by rkohler3 on 11/19/09 - Image Year: 1911

Contributed by rkohler3 on 11/19/09 - Image Year: 1928