507 Main Street
Main St.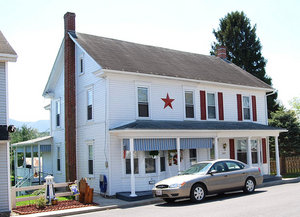 Click On Image To Enlarge
This is a large double house.

During the late 1940s and early 1950s the right side (509) of the house was the home of the Kenneth and Arlene (Potter) Gilson and daughter Joyce. It was then owned by Brian and Dixie Lee Ranck.

It was sold in the summer of 2009 to Jay K. Hockenbrock.

This house was built between 1911 and 1928 because it did not appear on the Sanborn Fire Insurance Map of 1911 but was on their 1928 map.
Contributed by crice20485 on 11/21/12

Contributed by rkohler3 on 5/21/14 - Image Year: 2007

Contributed by rkohler3 on 11/19/09 - Image Year: 1889

Contributed by rkohler3 on 11/19/09 - Image Year: 1904

Contributed by rkohler3 on 11/19/09 - Image Year: 1911

Contributed by rkohler3 on 11/19/09 - Image Year: 1928