Verna (SHEAFFER) FOLTZ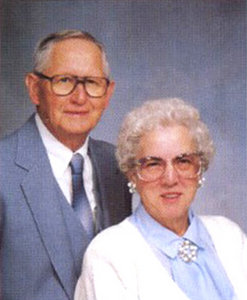 Click On Image To Enlarge
OBITUARY for VERNA MAE SHEAFFER ARMSTRONG FOLTZ

CHAMBERSBURG: VERNA MAE FOLTZ, 89, of Chambersburg and formerly of Scotland and Port Royal, Pa., died Sunday, June 8, 2008 at 8:15 a.m. at the Menno Haven Nursing Home, Chambersburg.

Born on April 1, 1919, she was the daughter of the late Samuel D. and Mary H. (Shotzberger) Sheaffer. She was preceded in death by first husband, Robert G. Armstrong and second husband, Charles W. Foltz, May 30, 1998.

Surviving are: a daughter, Mrs. Guy (Gloria) Musick, of Scotland; son, Rev. John W. Hostettler, of Fort Pierre, S.D.; stepchildren, C. Ernest Foltz, of Dillsburg, Dennis P. Foltz, of Port Royal, Philip L. Foltz, of Port Royal, Jedda C. Smith, of Port Royal; two brothers, Samuel D. Sheaffer, Jr., of Camp Hill, Raymond W. Sheaffer, of Lewistown; a sister, Mrs. Walter (Marion) Stuart, of Waynesboro; four grandchildren; nine step-grandchildren; eight great-grandchildren; and thirteen step-great-grandchildren.

She was also preceded in death by an infant daughter, Gale Hostettler; an infant son, Eugene Hostettler and a brother, John H. Sheaffer.

She was a 1938 graduate of Port Royal High School.

She was a seamstress having worked for the former Stanley Corp., in Chambersburg.

She was a member of the Mt. Pleasant United Brethren Church, Chambersburg.

A viewing will be held on Thursday, June 12, 2008, from 10 a.m. until the time of services at the Rex Funeral Home, 308 Market St., Port Royal. A funeral service will be held at 11 a.m. following the viewing, with the Rev. John W. Hostettler officiating. Interment will follow at the New Church Hill Cemetery, Port Royal.

Memorials may be made to the Alzheimer's Assn., 3544 N. Progress Ave., Harrisburg, PA 17110.