309 Main Street
Main St.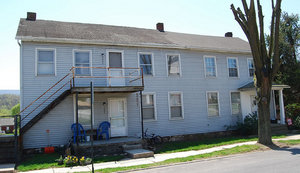 Click On Image To Enlarge
This is a double house that sits across Main Street from the Presbyterian Church property. It appears that the left portion of the property may have been divided into two separate apartments.

In the 1940s and 50s, the left residence was the home of the Frank "Babbi" Eby family and the right residence the home of John M. Kohler family.

These properties were built before 1885 because they appear on the Sanborn Fire Insurance Maps of that year.
| | |
| --- | --- |
| | Contributed by rkohler3 on 5/21/14 - Image Year: 2007 |
| | Contributed by rkohler3 on 11/27/09 - Image Year: 1885 |
| | Contributed by rkohler3 on 11/27/09 - Image Year: 1889 |
| | Contributed by rkohler3 on 11/27/09 - Image Year: 1904 |
| | Contributed by rkohler3 on 11/27/09 - Image Year: 1911 |
| | Contributed by rkohler3 on 11/27/09 - Image Year: 1928 |