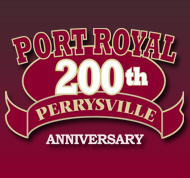 Beth Olivia BAKER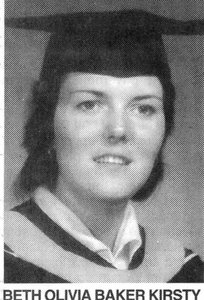 Click On Image To Enlarge
OBITUARY for BETH OLIVIA BAKER KRISTY

BETH OLIVIA BAKER KRISTY, 50 of Perkasie, PA, died Wednesday, February 8, 2006 in the Hospice Care Unit of the Lehigh Valley Hospital, Allentown.

Born November 2, 1955 in Derry Township, Mifflin County, she was a daughter of Paul Robert and Dorothy Margaret (Gilson) Baker, of Bridges at Brookline, 920 Terrace Apartments, Mifflintown.

Her husband, Charles W. Kirsty, whom she married March 11, 1989, also survives.

In addition to her husband and parents, she is survived by: one sister, Dr. MeeCee Baker and husband Dr. Robert Mikesell Jr.; a niece, Elizabeth Baker-Mikesell, all of Port Royal; her mother-in-law, Mary Lu Kirsty, New Russia, NY; brother-in-law Jeffery Kirsty and wife Gina of Malta, NY, and three nephews, Steve Kristy, Michael Kristy and Robert Kristy, all of Malta, NY.

She was a 1973 graduate of Juniata High School, Mifflintown; a 1977 graduate of West Chester State College; and a 1980 graduate of Hahneman University, Philadelphia.

Mrs. Kirsty was currently employed as a Physicians Assistant at Coordinated Health Services, Bethlehem and had previously served as a Physicians Assistant at Fort Indiantown Gap during the Cuban Boat Crisis, had given primary care at DRC Rehabilitation Clinic, Philadelphia. She had also provided care at a walk-in clinic at JFK Hospital, Philadelphia for District Council 30, and she had worked in occupational medicine at Academy Industrial, Philadelphia.

Mrs. Kirsty was a member of Saint Andrews Evangelical Lutheran Church, Perkasie.

She was an avid New York Jets football fan and a season ticket holder for the Philadelphia 76'ers basketball team.

Funeral services were held Monday, February 13, from the Port Royal Lutheran Church, Port Royal, with her pastor, Rev. David Lutcher, Rev. Carol Hertler and Rev. John Bateman officiating. Interment followed in Old Church Hill Cemetery, RR2 Port Royal. Brown Funeral Homes, Mifflintown, was in charge of the arrangements.

Memorial contributions may be made in Mrs. Baker Kirsty's memory to the American Cancer Society, Buxmont Office, High Point Professional Building, 700 Horizon Circle, Suite 201, Chalfont, PA 18914; or to the St. Andrews Evangelical Lutheran Church, P.O. Box 257, Perkasie, PA 18944.