John F. RICE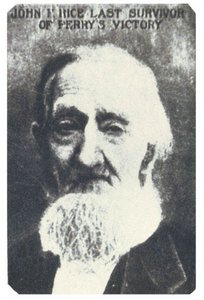 Click On Image To Enlarge
John F. Rice, a resident of Port Royal married Elizabeth Kilmer of the same place. Soon thereafter they moved from Port Royal to Shiloh, later Shelby, Ohio where he died in 1880. There is no record of them having any children.

This John Rice was the last survivor of Commodore Perry's victory during the War of 1812. For the War of 1812 about 50 men were drafted in the Tuscarora Valley and Matthew Rogers, Sr. of Mexico was their captain. John Rice at age 23 became a member of this company by serving as a substitute for Jacob Kepner. (Jacob Kepner's six year old daughter was the first person buried at Old Church Hill Cemetery in 1803.) John went with this company to Presquile (Erie), while the rest of the company passed on to Put-in-Bay at the southwest end of Lake Erie. There this company guarded and assisted the workmen who were building Perry's fleet. John F. Rice volunteered and served on two cruises on Lake Erie; one on the Niagara, the other on the Scorpion. He participated in the battle on Lake Erie and drew a pension under Certificate No. 1611.

A monument was erected at his grave in Shelby, Ohio in 1923 with the following inscription: JOHN RICE, THE LAST SURVIVOR OF PERRY'S VICTORY, ACHIEVED ON LAKE ERIE, SEPTEMBER 10, 1813.

Commadore Perry's campaigns in the War of 1812 so impressed the people of Juniata County that they named their settlement Perrysville [today Port Royal] in 1812.