Marian Jane "Jane" (BOOK) FRANKHOUSE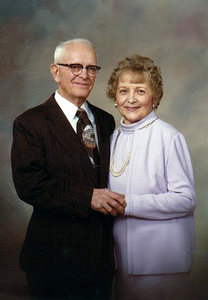 Click On Image To Enlarge
OBITUARY for JANE BOOK FRANKHOUSE

"JANE B. FRANKHOUSE, 85, of 515 Market Street, Port Royal, died at 11:06 am Monday, July 2, 1990, at the Brookline Manor Convalescent Home, Mifflintown RD1.

Born July 17, 1904, in Walker Township, Juniata County, she was a daughter of the late Walter Witmer and Matilda Belle [Ritzman] Book. Her husband, Joseph P. Frankhouse, died January 6, 1990.

Surviving are: children, Marlin B. Frankhouse, East Berlin, Nedra J. Lewis, Hermitage; and two grandchildren.

She was preceded in death by one brother, Charles W. Book, on December 16, 1984, two sisters, Carolyn B. McCreary, on February 1, 1979, and Myrna B. Boyer, on March 15, 1977.

She was a graduate of Port Royal High School and the Shippensburg College Class of 1925.

She had been an elementary school teacher for many years in Port Royal.

She was a member of the Port Royal Lutheran Church, where she taught Sunday school for many years and a member of Women of the ELCA; former member of the school board of Port Royal [Jane Book Frankhouse was the first woman to be elected to serve as a school board member in the history of Port Royal.], chairman for 15 years of Lutheran church food stand at the Juniata County Fair, member of order of Eastern Star, Mifflin Chapter No. 260, and the Port Royal Literary Guild.

Services were held at 11:00 am Saturday at Rex Funeral Home, Port Royal with the Rev. Steven Nelson officiating. Interment was in the Old Church Hill Cemetery, Port Royal."