Joseph Pomeroy "Joe" FRANKHOUSE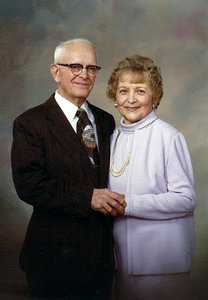 Click On Image To Enlarge
OBITUARY for JOSPEH P. FRANKHOUSE

JOSEPH P. "JOE" FRANKHOUSE, 92, of 515 Market St., Port Royal, died on Saturday, January 6, 1990, at the Lewistown Hospital.

Born May 15, 1897, in Port Royal, he was a son of the late Charles David and Jennie (Meloy) Frankhouse.

His wife, Jane (Book) Frankhouse, whom he married on June 22, 1929, survives him.

Also surviving are: children, Marlin B. Frankhouse of East Berlin, PA, and Mrs. Nedra J. Lewis of Hermitage, PA.

Brothers and sisters: Mrs. Margaret Lyter of Port Royal, Mrs. Martha Kauffman of Upper Darby, and 2 grandchildren.

He was preceded in death by 2 brothers, Fred Frankhouse on 8/17/89 and Melvin C. Frankhouse on 11/13/77.

He was a retired Buick-Pontiac Dealer in Port Royal from 1930 to 1975. He was also a veteran of WWI having served in the U.S. Army.

Mr. Frankhouse was a member of tile Port Royal Lutheran Church, a life member of the American Legion Post #298, Mifflintown. He received 'The American Legion Golden Certificate' for 50 years of continuous membership. He was a member of the VFW Post #5863, Mifflintown and the F&AM Loge #324, Mifflintown.

Services were held at the Rex Funeral Home, Port Royal. with tile Rev. Steven Nelson officiating.

Internment was in the Old Church Hill Cemetery, Port Royal.
| | |
| --- | --- |
| | Contributed by rkohler3 on 1/7/13 - Image Year: 1919 |
| | Contributed by rkohler3 on 7/22/11 - Image Year: 1986 |
| | Contributed by rkohler3 on 7/22/11 - Image Year: 1901 |
| | Contributed by rkohler3 on 9/12/11 - Image Year: 1948 |